Janice & the Violets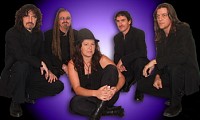 Book Now!
This is a band that demands attention from the moment they take to the stage. Featuring five confessed long-term professional attention seekers they have found comfort in the knowledge that they are all 'on the same stem'.
Ultraviolet is a tasteful combination of performers who will enhance the atmosphere of an event with a chameleon style ability to adapt to the conditions.
The band will keep your guests entertained and create an unforgettable experience to last a lifetime, keeping the dance floor pumping all night long. They are perfectly suited to give that memorable finishing touch to any corporate or private event.
Now in full bloom, Ultraviolet is poised to take the music world by storm! This energetic band is on the cutting edge, keeping their repertoire fresh and up-to-date but also including enough classics to evoke the best memories.
Ultraviolet has the ability to set the mood for you and are able to customise their play list to deliver your favourite song with the same passion that you have for it in your own heart.
Audience participation is always a highlight of a performance by Ultraviolet with plenty of fun to be had by all.
Ultraviolet isone of a kind here in Australia, located in the sub-tropical beauty of Queensland's Sunshine Coast.
They are available for delivery anywhere throughout the world on request.